See on Scoop.it – Hideaway Le Marche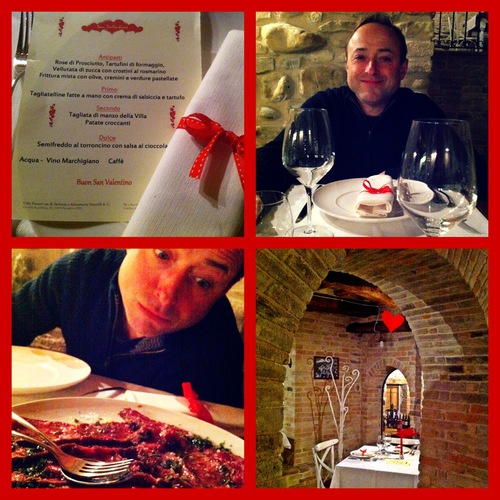 Sarah Topps's insight:
We arrived at Villa Funari on Valentine's Day, unsure what to expect as we have dined in many restaurants In Le Marche but had been told by friends that this really was something special. We were certainly not disappointed.
The restaurant has been beautifully furnished, rustic but modern and everything was spotless. Unfortunately we were not lucky enough to spend the night in the accommodation but just to experience the food was a delight in itself.
The set Valentine's Day menu, including wine, water and coffee was good value. Simple, home cooked, beautifully presented and very very tasty.
We started with a delicious rose of prosciutto which had been cured in-house. Followed by a volute of pumpkin which was also amazing.
After this we were treated to a trio of lightly fried antipasto. Courgettes, cremini and Ascolana olives.
Our primo was tagliattini of sausage and truffle which was delicate but full of flavour. For our secondo, Mark's favourite, tagliata of home-reared beef cooked perfectly and served with crisp potato wedges.
The desert of semifreddo rounded off our meal perfectly, which was accompanied by Ciu Ciu and Castegnano wines.
Although very busy, being Valentines night the staff were efficient, friendly and courteous and we were even treated to a trip down to the cheese cave where all their home-made cheeses are matured. Nothing was too much trouble and the staff even made time to explain to us the process of the cheese storage. The smell was just divine.
We will certainly be retiring to Villa Funari. Something rather special and a real treat although priced very reasonably. Our set menu was €28 per head inclusive.
You can contact Villa Funari on 0734 750114 and visit their website here: http://www.villafunari.it/